About Me
Callen
I'm Callen, 29 years old from Minnesota and this is my personal site. I work in an on-site tech support position at a school as well as doing some live production work so my life is pretty well saturated with technology. I'm your standard geek interested in gaming and shiny new toys. I am also involved in the furry fandom.

Surprisingly enough, I've found a love for working in tech support. (I know, I'm crazy!) I'm agoraphobic and while it's mostly under control it keeps me from being out in the world as much as I'd like, so I spend a lot of time finding quiet areas to pursue my own interests. I attribute this as one of the reasons I focus so much on technology in my life. I am also fascinated with the methods of making TV and movies and I'd like to be involved in the field more.

Likes: Science Fiction, Reading, Miniatures Games, Board Games, Comics, Dragons, Nature and Science Documentaries.
Caltsar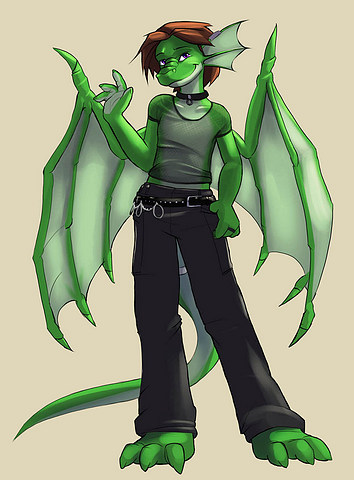 Caltsar is my online alias and "fursona." He's the green dragon to the left, and my main character for roleplaying as well as my identity online. Unlike many online identities created in the furry fandom, my dragon was created and modeled after myself to a great degree in regard to personality and looks (aside from the dragon part).

The name Caltsar (pronounced Cal-zar) was made up during a D&D game when I needed a name for a halfling character. I took the shortened version of my first name (Cal), and the meaning of my middle and last names (tsar... kinda, I took a few liberties with this, but it's mostly accurate). When combined, the name sounded rather nice and has been my name online and often my name in real life to friends ever since.

If you wish to contact me online, I can be reached on AIM by the screen name "Caltsar."
All content and code, unless otherwise specified, is copyright 2004 - 2015 Callen Magnuson.
mmmh... spam...